The "carnival" sucked.
The rides were 5 bucks a pop.
Christie ditched me that little nugget.
Lauren is my favorite now.
Kamakazi was the bomb...maybe even for 5 bucks.
Glactatron made me so sick, still sick.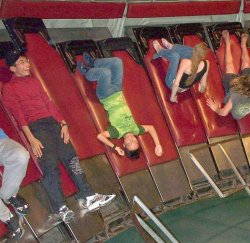 Now its only 3.
Wow.
What a waist.
I think I'm going to get skin cancer.
I hope I can say it was worth it.
O ya sorry to those few readers out there...
*Ahem Jessica*
My Internet was out. But now its back...
Yay.
Just isn't the same.
I want to tell Jaynee I got Leatherheads with George Clooney and Indiana Jones 4 with Shia....:(
I REALLY REALLY want to watch The Changeling!!!!!!!!!!!!!!!
Ugh why is it R!?!